Hey dears,
I am dancing right now. We have two celebs in our midst. One is a senior colleague of mine, Vera or Verastic and the other is a champion of the reading culture and an author Ofili . They are bringing a kind of opinion poll to us. Happy reading and be sure to answer okay?
Will Nigerians Read Books On Mobile Phones?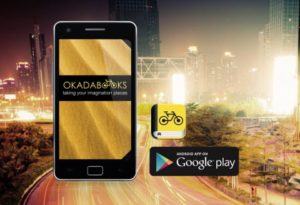 This is a sponsored content from Okadabooks. Please read and respond: would you read books on mobile phones?
The reading culture of Nigerians has been on a steady decline for some time now. The decline can be attributed to many factors from a tough economy to a general lack of reading interest in the younger generation. Some have even gone as far as blaming the poor reading culture on mobile devices.
Now there is a new app called okadabooks that is putting Nigerian books on mobile phones in a bid to get people to read on phones. The app has a diverse collection of books from Nigerian authors and even past WAEC/JAMB questions with answers.
This all sounds like a good idea, but the question is will Nigerians actually read and buy books on their phone and will students actually study with their phones. Check out the app HERE and let us know what you think about it and the Nigerian reading culture in general.
Let us know your 2kobo, abi no be so?